Overview
Heel pain is the most common musculoskeletal complaint of patients presenting to podiatric practitioners throughout the country. It is well-recognized that subcalcaneal pain syndrome, commonly attributed to plantar fascitis, is a disease entity that is increasing in its incidence, owing partly to the fact that it has a predilection for people between the age of 40 and 60, the largest age segment in our population.
Causes
Patients with tight calf muscles will suffer with excessive pulling of the muscle group on the back of the heel. This in turn creates pulling of other structures that are attached to the heel, including the Plantar Fascia. When the pulling continues for long enough, then inflammation will develop and lead to Plantar Fasciitis. This causes Heel Pain. It is extremely common for patients who increase their level of activity to develop Plantar Fasciitis. Boot camp, running, zumba, recreational walking or other quick movement sports such as tennis or touch football are typical causes of Heel Pain. The sharp increase in exercise is too much for the foot to cope with and the stress on the Plantar Fascia causes inflammation. The Heel Pain that is caused by this inflammation is known as Plantar Fasciitis.
Symptoms
The pain is more intense with your first steps out of bed in the morning or after sitting for a while. The reason for this is that during rest our muscles and ligaments tend to shorten and tighten up. The tightening of the plantar fascia means more traction on the ligament making the tissue even more sensitive. With sudden weight-bearing the tissue is being traumatised, resulting in a stabbing pain. After walking around for a while the ligament warms up, becomes a little bit more flexible and adapts itself, making the pain go way entirely or becoming more of a dull ache. However, after walking a long distance or standing for hours the pain will come back again. To prevent the sudden sharp pain in the morning or after sitting, it is important to give the feet a little warm-up first with some simple exercises. Also, any barefoot walking should be avoided, especially first thing in the morning, as this will damage to the plantar fascia tissue. Aparty from pain in the heel or symptoms may include a mild swelling under the heel. In addition, heel pain is often associated with tightness in the calf muscles. Tight calf muscles are a major contributing factor to Plantar Fasciitis.
Diagnosis
Plantar fasciitis is one of many conditions causing "heel pain". Some other possible causes include nerve compression either in the foot or in the back, stress fracture of the calcaneus, and loss of the fatty tissue pad under the heel. Plantar fasciitis can be distinguished from these and other conditions based on a history and examination done by a physician. It should be noted that heel spurs are often inappropriately thought to be the sole cause of heel pain. In fact, heel spurs are common and are nothing more than the bone's response to traction or pulling-type forces from the plantar fascia and other muscles in the foot where they attach to the heel bone. They are commonly present in patients without pain, and frequently absent from those who have pain. It is the rare patient who has a truly enlarged and problematic spur requiring surgery.
Non Surgical Treatment
The key for the proper treatment of plantar fasciitis is determining what is causing the excessive stretching of the plantar fascia. When the cause is over-pronation (flat feet), an orthotic with rearfoot posting and longitudinal arch support is an effective device to reduce the over-pronation and allow the condition to heal. If you have usually high arches, which can also lead to plantar fasciitis, cushion the heel, absorb shock and wear proper footwear that will accommodate and comfort the foot. Other common treatments include stretching exercises, plantar fasciitis night splints, wearing shoes that have a cushioned heel to absorb shock, and elevating the heel with the use of a heel cradle or heel cup. Heel cradles and heel cups provide extra comfort, cushion the heel, and reduce the amount of shock and shear forces placed during everyday activities.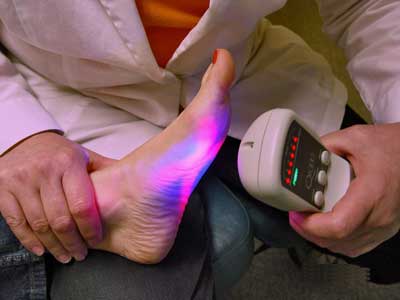 Surgical Treatment
Plantar fasciotomy is often considered after conservative treatment has failed to resolve the issue after six months and is viewed as a last resort. Minimally invasive and endoscopic approaches to plantar fasciotomy exist but require a specialist who is familiar with certain equipment. Heel spur removal during plantar fasciotomy has not been found to improve the surgical outcome. Plantar heel pain may occur for multiple reasons and release of the lateral plantar nerve branch may be performed alongside the plantar fasciotomy in select cases. Possible complications of plantar fasciotomy include nerve injury, instability of the medial longitudinal arch of the foot, fracture of the calcaneus, prolonged recovery time, infection, rupture of the plantar fascia, and failure to improve the pain. Coblation (TOPAZ) surgery has recently been proposed as alternative surgical approaches for the treatment of recalcitrant plantar fasciitis.
Prevention
Do your best to maintain healthy weight. Plantar fasciitis is caused by wear and tear on your feet. Being overweight drastically increases the pounding your feet take every day. Even losing a few pounds can help reduce heel pain. Avoid jobs that require walking or standing for long periods of time. Having your body weight on your feet all day puts a lot of pressure on your plantar fascia tissue. Replace your shoes on a regular basis. Buy new shoes when the old ones are worn-out. Make sure your shoes will fit your foot size comfortably at the end of the day. Pay attention to the width as well as the length. Use good supportive shoes that will help you with your original problem like arch support, motion control, stability, cushioning etc. Stretch regularly as part of your daily routine. There are a few special stretching techniques for the prevention. Choose soft surfaces for your exercise routine to walk, jog or run on. Rest and elevate your feet every chance you have. Strengthen your foot muscles as part of your exercise routine. Strong foot muscles provide a good support to the plantar fascia. Change your shoes during the work week. Don't wear the same pair of shoes every day. Perform Warm up exercises such as a short period of walking, a light jog or other easy movement and then stretch before starting the main exercise. Try to avoid dramatic changes in your exercise routine. Increase your exercise level gradually. Don't run long distance if you are used to walk. Make the change slowly and gradually. Pay attention to your foot pain, do not ignore it. Visit your doctor if the pain continues. Avoid the activities that cause you pain. Use over-the-counter Orthotics or inserts that your doctor may prescribe. Off-the-shelf or custom-fitted arch supports (orthotics) will help distribute pressure to your feet more evenly. Try to avoid barefoot walking, since it may add stress on the plantar fascia ligament.